Simply because it makes your eye color splendid!
I've recently experimented with eye stuff and came across eye primers while going through articles, forum posts and Youtube tuts.
And so one night, I played with my Shiseido eye palette I got from
Lotus Palace
and tried a primed vs non-primed look.
Here's a pic of the experiment taken 3 hours after application (yeah, I walked around the house like a raccoon, and everybody was, "Are you okay?"). The colors on my eye, to your left (no primer), looks like it's slowly being washed out already. The colors to your right, on the other hand, are still "alive" and are still able to make my eyes pop a little.
I used The Bodyshop's Pencil concealer in 03 to prime my lids here.
Lid Primers you can use:
1. Urban Decay Primer Potion in Original or Sin ($17)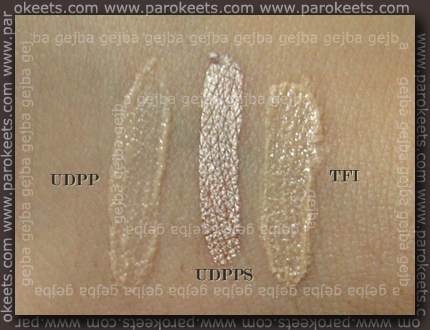 Swatches: (L-R) Urban Decay Primer Potion Original (UDPP), Urban Decay Primer Potion Sin (UDPPS), Too Faced Shadow Insurance (TFI)
Hailed 'the best lid primer' by many. It isn't locally available but you can check ebay.ph and multiply sites for a handful of resellers (price range: 1100-1300php for a 0.34oz bottle).
Original is sheer and colorless, while Sin has a hint of shimmery champagne color. While most girls claim that they perform equally well, some are inclined to use Sin since it can be an eye color as it is.
2. Too Faced Shadow Insurance ($17)
This lid primer is at par with UDPP... IF you live in not so humid countries. If you're oily and you live in a tropical country like the Philippines, this'll just melt your eye color away....
This is less popular here in our country, but you might want to try ebay.ph and multiply sites if you're interested.
3. MAC Paint Pots (1,100php in Philippine MAC counters; $16.50 at www.maccosmetics.com)
These are actually eye shadows, but I've read that MAC paint pots come in highly recommended to improve eye pigments, too. The most famous paint pot to prime the lids is Soft Ochre. You may also want o try Bare Study if you want some sort of frost in your lids.
4. Your usual concealer!
The Bodyshop's Pencil Concealer (600+php/ $11)
If you're not the type who oils on the lids too much, you can reach for your regular concealer.
I really don't wear eye makeup, so I'm good with Bodyshop's creamy concealer during 'play time'. It can actually make the colors I play with come to life!
I'm actually rooting to get the UDPP one of these days. I love my concealer,
but with my uber oily lids (and face!)
, I don't want to end up looking like I splashed on poster paint on my lids!