"It is forbidden to kill; therefore all murderers are punished unless they kill in large numbers and to the sound of trumpets. ~Voltaire, War"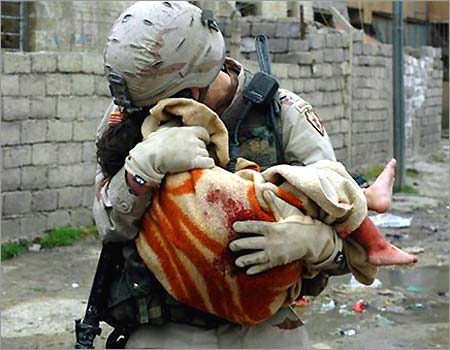 A soldier carrying a lifeless little girl's body


When was the last time you've given a good thought about the wars over Iraq and Israel? Honestly, all I did about it was to
plainly know
that people there are fighting over things they can't agree upon. I knew there were military funding, bombings, children forced to learn about guns, and a whole lot more of depressing things unimaginable.
Today, I stopped plainly knowing about it. I stopped the less needed sympathy and started empathizing with Iraq's and Israel's respective gloom.
I pray to God for strength to be patient with the meanest people I encounter in places. I ask God for prudence with the choice of words that comes out of my mouth. I ask God to bless me with the will to be as loving as Christ, especially when He faced those who hated Him.
It's a tough commitment to make, but I'm happy to be taking these few steps in my mini-contribution to world peace. It may not be as glorious as what other people can do to stop the war, but I know that I'm putting my heart into it. It will be hard and it will be a huge struggle for me (I'm soooo inclined to be mataray, maybe because of too much stress), but I am putting my heart into it with God's help.
If you are crushed by the little girl's lifeless body above, I hope you can be convinced that there must be something done to end the war. I hope that, rather than plainly sympathizing, we can empathize like the soldier. That we can choose to carry and hug the helpless child, rather than muttering, "Poor kid", and walk away.
Royally yours, Bleak